News
July 22, 2021
PianoRemote digital piano control app v1.1 released for iOS and Android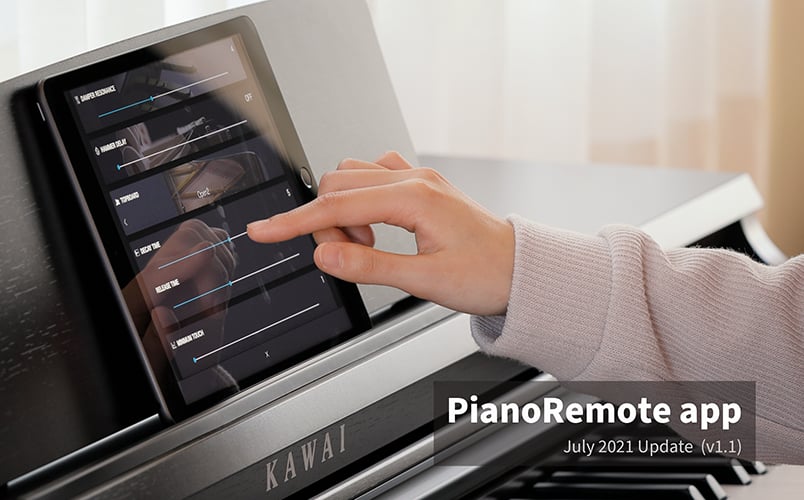 Kawai Japan has released an updated version of the PianoRemote digital piano control app for iOS and Android devices.
This v1.1 app update introduces a new Recorder function, allowing performances to be captured as MIDI or audio data.  In the case of MIDI recordings, the Lesson screen allows the tempo of recordings to be adjusted, or for part of a song to be repeated continuously in order to aid practice.  For audio recordings, the performance is captured using the smart device's built-in microphone, however higher quality recordings can be created using an external audio interface or microphone (sold separately).
Once a performance has been recorded, it can easily be shared with students, teachers, friends and family via chat/messaging apps, uploaded to the cloud in order to create a piano practice/progress log, or opened in other music apps for further editing etc.
Finally, the updated PianoRemote also includes a built-in owner's manual, providing a convenient way to reference and learn about the app's various functions and features.
The full PianoRemote app changelog is shown below:
---

PianoRemote
V1.1 (July 2021)
- Added Recorder function to piano/sound tabs.
- Added Recorder settings to main Menu.
- Added Manual link to main Menu.
- Various other minor improvements and bug fixes.

1.0.2 (October 2020)
- Added support for CA49/CA59, ES520/ES920.
- Show notification screen when piano does not support PianoRemote.
- Show notification screen when piano requires software update.
- Implemented Bluetooth MIDI firmware update function.
- Improved sound matching process, fixed bug related to sounds being added to "Recently Played" list unnecessarily.
- Fixed bug that could cause left/right swiping to lock under some iOS environments.
- Added gesture to select next/previous content by tapping right/left edge of the screen instead of swiping.
- Various other minor improvements and bug fixes.

1.0.1 (April 2020)
- Fixed issue that caused English text to display incorrectly on some screens.
- Fixed issue that allowed songs/pieces to be played in both the app and the piano itself simultaneously (excluding Demo Mode).
- Various other minor improvements and bug fixes.

1.0.0 (March 2020)
- Initial release.

---

A notification to update the PianoRemote app to the latest v1.1 release should be sent from the Apple App Store/Google Play Store.  Customers are advised to update to the latest version of PianoRemote in order to take advantage of newly developed features.
PianoRemote is compatible with all Kawai digital/hybrid pianos released since 2020.  For more information about the app, please refer PianoRemote product page of the Kawai Global website accessible via the following URL:

https://www.kawai-global.com/product/pianoremote/