News
March 25, 2016
Kawai & Onkyo to unveil CS-X1 collaboration prototype digital piano at Musikmesse 2016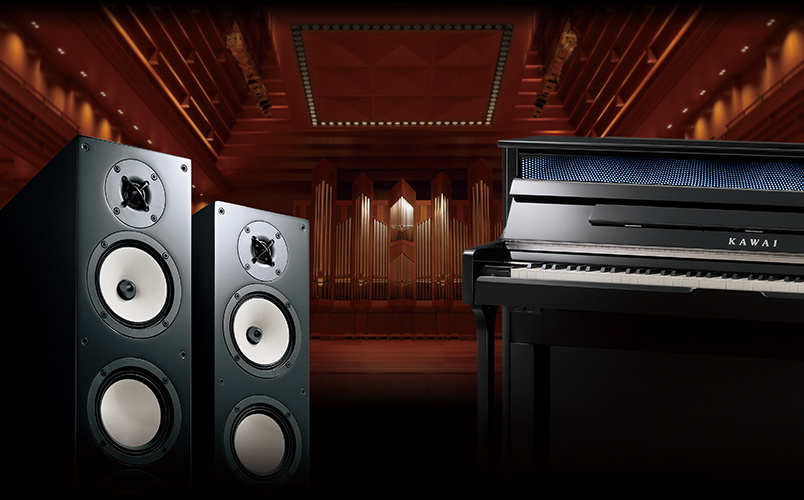 Kawai Musical Instruments & Onkyo Corporation, two leaders in Japanese music and audio technology, are proud to unveil the CS-X1 collaboration prototype digital piano at Musikmesse 2016.  The two companies formed a business and capital funding alliance in November 2015, aiming to merge the technical expertise and brand strengths of both companies.  The CS-X1 serves as a demonstration of this new alliance, blending Kawai's finest keyboard and piano sound technologies with Onkyo's premium amplifier and speaker hardware.  The result is a state-of-the-art digital piano surround sound configuration that reproduces the concert hall playing and listening experience for pianists and audience members alike.
At the heart of the CS-X1 collaboration prototype is the spectacular sound of the Shigeru Kawai SK-EX concert grand piano, captured with full 88-key sampling and reproduced using Harmonic Imaging XL piano sound engine.  Advanced 1-bit signal processing and premium dual DAC components ensure precise analogue conversion, with Onyko's unique DIDRC technology and optimised power amplifiers delivering greater energy, richness, and clarity.  This high fidelity Shigeru Kawai sound is channelled onto two real wooden soundboards, allowing the CS-X1 to reproduce the natural warmth and organic richness of an acoustic piano, while a built-in multi-channel Onkyo amplifier and 8-channel external speaker configuration immerses the pianist in a unique virtual concert hall experience.
Articulating this magnificent sound is Kawai's ultra-realistic Grand Feel II keyboard action, which replicates the seesaw movement and key pivot length of a grand piano.  All 88 of the CS-X1's keys are crafted entirely from long pieces of wood, with authentic Ivory & Ebony Touch surfaces, triple-sensor note detection, and graded counterweights ensuring the keyboard feels and responds like that of the flagship Shigeru Kawai concert grand.
The CS-X1 features an audiophile specification Android™-based digital audio player embedded within the instrument's left cheek block, with a 4.7" touchscreen that doubles as the instrument's main control panel.  Wireless and Bluetooth connectivity is also built-in, providing direct access to hundreds of thousands of high-res audio tracks via the onkyomusic service, and allowing favourite music and entertainment apps to be installed from the Google Play™ store.  Yet, despite the abundance of technology inside, the CS-X1 remains loyal to Kawai's acoustic heritage.  The instrument's luxurious ebony polish cabinet and handsome silver-chrome fittings replicate the appearance of a K Series upright piano, allowing musicians to enjoy all the benefits of a digital piano, while admiring the traditional character of a truly classic design.
Flagship Shigeru Kawai sound, premium Onkyo audio hardware, real wooden soundboards, three dimensional surround speakers, modern Android functionality, and the industry-leading keyboard action – all housed within a traditional ebony polish piano cabinet.
The Kawai-Onkyo CS-X1 collaboration prototype: premier Japanese music and audio technologies combined.
More information about the CS-X1 collaboration prototype can be found at www.kawai-onkyo.com/CS-X1, while Musikmesse visitors can experience the CS-X1 in person at a special exhibit in Hall 9.0 booth A60 from 7th-10th April.