News
October 3, 2019
Kawai Novus NV5 wins 'Good Design' award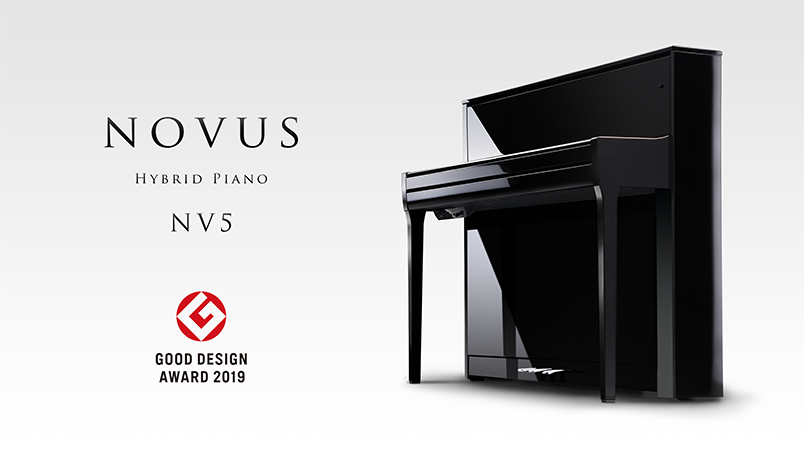 Kawai is proud to announce that the Novus NV5 hybrid piano has received a prestigious 'Good Design Award' from the Japan Institute of Design Promotion.
The annual Good Design Award program invites companies from around the world to submit new products for assessment by the judging committee. This year's program screened over 4,700 entries, with acknowledgements awarded to 1,420 works covering a broad range of categories.
The Novus NV5 hybrid piano was officially announced at the beginning of August 2019, with sales commencing in Japan and Europe from the start of October. This stunning instrument combines Kawai's finest Millennium III acoustic upright piano keyboard action, including a real damper mechanism, with the latest SK-EX Rendering piano sound engine and premium amplification technologies developed in collaboration with audio specialists Onkyo, to deliver an incredibly realistic acoustic piano playing experience.
This award is the 24th Good Design Award presented to Kawai, and follows the success of the Novus NV10 which received the same prestigious accolade in 2017. Commenting on this year's achievement, product design Shinichi Ito remarked:
"Many customers who enjoy playing the piano wish to cultivate their skills using an acoustic instrument, however there are often practical limitations such as space and volume that prevent this dream from being realised. The NV5 overcomes these restrictions, allowing pianists to enjoy the feeling of playing an acoustic piano at low volume or with headphones, in a very compact, stylish instrument."
The Novus NV5 will be displayed alongside other winning works at the Good Design Exhibition 2019, to be held at Tokyo Midtown (Roppongi, Tokyo) from 31st October ~ 4th November. Pre-order sales of the instrument began commencing in Japan and Europe at the start of October, with other regions to follow in early 2020.
---
For more information about the Good Design Award and Novus hybrid pianos, please refer to the links below:
https://www.g-mark.org/award/describe/48598?locale=en
http://www.kawai-global.com/product/nv5
http://www.kawai-global.com/product/nv10