News
November 1, 2018
Kawai announces the 3rd Shigeru Kawai International Piano Competition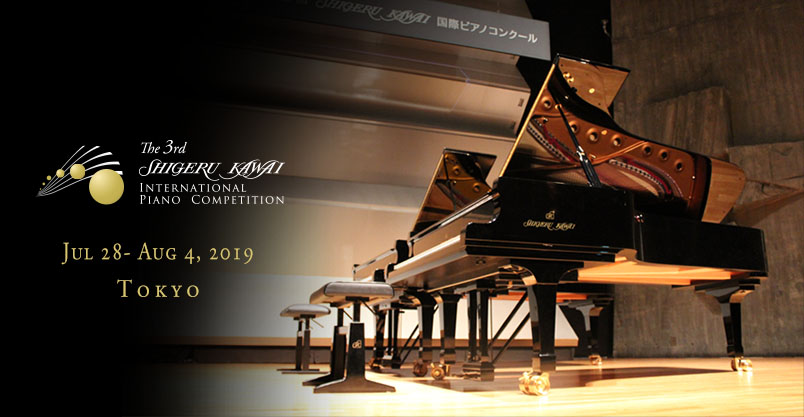 Kawai is proud to announce the 3rd Shigeru Kawai International Piano Competition. Pre-selection for the competition will start from February 2019, with the final round will scheduled to take place at Tokyo Bunka Kaikan on August 3, 2019.
 The Shigeru Kawai International Piano Competition was established in 2016, with the inaugural final coinciding with the Kawai's 90th anniversary celebrations. The competition aims to contribute to the development of musical culture, and promote international exchange by nurturing the next generation of pianists from around the world.
This year's second competition received 239 applications from 17 countries and regions, with the final held on August 11th watched by a large audience and ending in great success.  The final round featured piano concertos for two pianos, with the finalists accompanied by prestigious pianists Prof. Andrey Pisarev and Prof. Pavel Nersessian of the Moscow conservatory. Both professors will return for the 3rd competition to play the orchestra part of the piano concerto.
The 3rd competition will be judged by internationally renowned pianists/piano teachers from Japan and overseas. For more details, please refer to the official competition website at the address below.
Competition Outline
- Dates and Venues
Pre-selection (Japan)
Tokyo I
Mar 18 ~ 19, 2019
Kawai Omotesando Concert Salon "Pause"
Tokyo II
Mar 28 ~ 29, 2019
Nagoya
Mar 20, 2019
Kawai Nagoya Concert Salon "Bourree"
Osaka
Mar 21 ~ 22, 2019
Kawai Umeda Concert Salon "Jouer"
Pre-selection (Overseas)
Feb 2019
Video Screening (Tokyo)
Lottery
Jul 27, 2019
Kawai Omotesando Concert Salon "Pause"
1st Round
Jul 28 ~ 30, 2019
Semifinal Round
Jul 31 ~ Aug 1, 2019
Final Round
Aug 3, 2019
Tokyo Bunka Kaikan Recital Hall
Prize Winners' Concert
Aug 4, 2019
Kawai Omotesando Concert Salon "Pause"
- Eligibility
Pianists of all nationalities born between April 2, 1992 and April 1, 2002.
- Application Deadline
January 31, 2019(Japan Time)
※Application opens from the end of November, 2018.
- Shigeru Kawai International Piano Competition Official Website