News
August 7, 2019
Kawai announces new Novus NV5 hybrid piano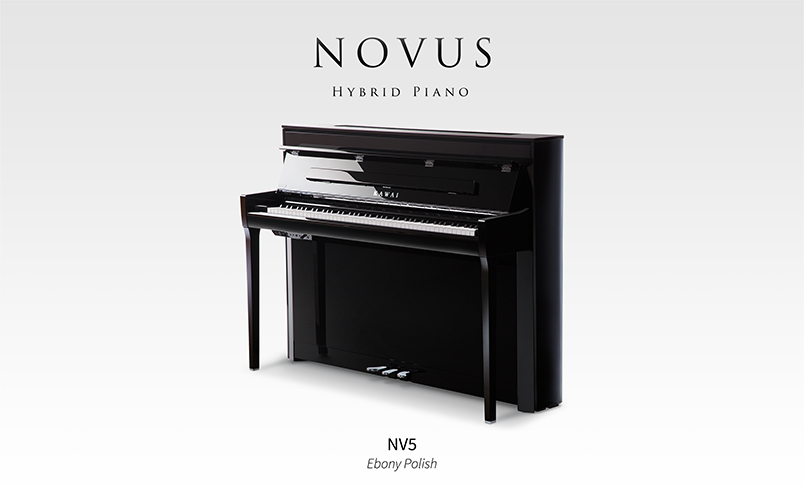 Kawai Japan is extremely proud to announce the NV5, the latest addition to Kawai's premium NOVUS series of hybrid pianos, and the second instrument in the line-up following the award-winning NV10 launched in late 2017.
This stylish upright model utilises the same Millennium III keyboard action as that of Kawai's highly-regarded 'K' series professional upright pianos, with high-precision optical sensors detecting the movement of each hybrid hammer. As with the first Novus instrument, the NV5 includes a real acoustic piano damper mechanism, preserving the important physical connection between the keyboard and pedals to ensure the most authentic playing experience possible.
The NV5 has also been developed in collaboration with premium audio specialists, Onkyo, with a powerful amplification and delivery system that incorporates Kawai's unique TwinDrive soundboard technology, reproducing the incredible sound of the Shigeru Kawai SK-EX concert grand piano. The modern NV5 supports both Bluetooth® MIDI and audio connectivity, and boasts a variety of convenient features, easily accessible from the large LCD touchscreen display embedded within the instrument's left cheekblock. Its ultra-compact cabinet occupies a depth of just 46 cm – far smaller than that of a conventional upright piano, while the contemporary design and immaculate ebony polish finish guarantee that this stunning instrument will become the centrepiece of any room it occupies.
Main Features
- Millennium III Hybrid upright piano keyboard action with optical hammer sensing system
- Real upright piano damper mechanism for true key and pedal weighting
- SK-EX Rendering sound engine with multi-channel piano sampling
- Premium audio processing, amplification, and speaker technologies powered by Onkyo
- 3rd generation TwinDrive Soundboard Speaker system featuring Onkyo transducers
- Integrated Bluetooth® MIDI and audio for wireless communication with smart devices
- Modern 5" LCD touchscreen display with intuitive swipe operation
- Flexible Virtual Technician function with 19 adjustable parameters
- Convenient WAV/MP3/MIDI file record and playback via USB memory
- Attractive topboard speaker cover crafted by Danish textile house Kvadrat
- Stunning ebony polish cabinet design with Soft Fall fallboard system
Millennium III Hybrid upright piano keyboard action, with optical hammer sensing system
The Novus NV5 is the first digital instrument to incorporate Kawai's leading acoustic upright piano keyboard action technology, renowned for the pioneering use of extended spruce key sticks and innovative ABS Carbon components that are stronger, lighter, and more dimensionally stable than conventional wooden parts. The specially adapted Millennium III Hybrid keyboard action utilised by the NV5 replaces traditional felt hammers with modern ABS equivalents that are individual graded in weight from bass to treble, while high-precision optical sensors take the place of metal strings, accurately reading the subtle movements of each hammer as the corresponding keys are played.
In addition to featuring a full acoustic upright piano keyboard action, the Novus NV5 also incorporates a real upright piano damper mechanism. While there are no strings inside the NV5 to require physical damping, this unique feature replicates the true weighting of an acoustic piano damper pedal, while also mechanically easing the keyboard action's touch weight as the pedal is pressed – an important acoustic piano characteristic that only Novus instruments are able to reproduce.
Shigeru Kawai SK-EX concert grand piano reproduced with SK-EX Rendering sound technology
The magnificent tone of Kawai's flagship Shigeru Kawai SK-EX full concert grand piano is at the heart of the Novus NV5 hybrid piano.  Widely regarded as the 'premier pianos of Japan', Shigeru Kawai instruments grace the stages of concert halls and musical institutions throughout the world, and are prized for their tonal clarity and exceptional dynamic range.
In order to faithfully reproduce the stunning sound of a Shigeru digitally, Kawai has developed SK-EX Rendering – an advanced sound engine that blends multi-channel, 88-key sampling with the latest resonance modelling technology. Multi-channel sampling captures the sound from different points of the Shigeru Kawai concert grand piano, allowing a broader range of tonal characteristics to be reproduced, and providing a more lively, authentic response to changes in dynamics. This naturally expressive sound is further enriched by newly developed resonance algorithms, which physically model the complex tonal interactions produced by the strings, dampers, and various other parts of an acoustic piano, giving players the impression that they're sitting at a living, breathing instrument.
Premium audio processing, amplification, and speaker technology – powered by Onkyo
Developed in collaboration with Onkyo, one of Japan's leading premium audio equipment manufacturers, the Novus NV5 hybrid piano utilises specialist components designed for high-end audio reproduction. With state of the art technologies such as 1-bit DSD processing, dual DAC signal conversion, and Onkyo's exclusive DIDRC circuitry, the Novus' optimised power amplifiers reproduce the Shigeru Kawai grand piano sound with stunning richness and clarity.
This high-fidelity sound is delivered through the NV5's powerful speaker system, which combines Kawai's exclusive TwinDrive soundboard technology with six premium quality Onkyo speaker drivers. This unique audio configuration harnesses custom transducer components to channel lower-range sound energy onto a real wooden soundboard, while higher frequencies are projected outward using top and front-facing speakers. The result is a remarkably authentic playing experience that immerses the performer, and faithfully reproduces the tonal ambience of an acoustic piano.
The Novus NV5 hybrid piano also incorporate Onkyo's high-performance Discrete SpectraModule™ headphone amplifier, which combines with Kawai's Spatial Headphone Sound (SHS) technology to guarantee the finest quality and most engaging listening experience, even when playing in privacy.
Integrated Bluetooth® MIDI and Audio connectivity
In addition to standard USB and MIDI jacks for connecting to computers or other instruments, the Novus NV5 hybrid piano also features integrated Bluetooth® MIDI and Audio technology that allows the instrument to communicate with supported smart devices wirelessly. Once paired to a phone, tablet, or laptop, Novus owners can enjoy a wide variety of exciting music-related apps that enhance their learning and playing experience, or stream audio from songs and videos directly through the instrument's premium amplifier and speaker system without the need to connect any cables.
Full-colour touchscreen display for intuitive, button-less operation
The Novus NV5 hybrid piano incorporates a full-colour 5" touchscreen display, discreetly embedded within the left cheekblock. This high resolution touchscreen allows sounds and settings to be selected from an attractive user interface simply by tapping or swiping the display with a finger. The screen can also be set to turn off automatically while playing, thus preserving the instrument's acoustic piano-like appearance, and minimising any visual distraction to the performer.
Ultra-slim upright cabinet design with broad music rest and Soft Fall fallboard
The Novus NV5's stunning ebony polish cabinet is crafted in the same piano production facility as Kawai's 'K' series upright instruments, ensuring exceptional build quality and an immaculate mirror-like finish. Its classic appearance is refined and refreshed by gently curved edge lines and elegantly tapered legs – free of the traditional, weighty toe-blocks – that lift and modernise the instrument's presence.  The NV5 also incorporates the ultra-slow Soft Fall fallboard closing system from Kawai's premium acoustic instruments, protecting the player's hands and the piano's luxurious finish from any harm that a jarring close might cause.
Contrasting its ebony polish finish, the Novus NV5's topboard speakers are protected from dust and other foreign objects by soft fabric created by esteemed Danish textile house Kvadrat. This original material has been customised to meet Kawai's specifications, with a woven mesh composition optimised for musical clarity and tonal projection, while its dark-grey yarn and pearl-like highlights further contribute to the Novus' premium appearance.
Despite housing an acoustic piano keyboard action and damper mechanism, the NV5 is a remarkably compact instrument, occupying a depth of just 46 cm – far smaller than a conventional upright. This slim profile allows pianists to enjoy an authentic, acoustic piano playing experience, in confined spaces previously limited to a standard digital piano.
The finest acoustic upright piano keyboard action, a real acoustic piano damper mechanism, stunning multi-channel grand piano sounds, premium audio, amplification, and speaker technologies, modern Bluetooth and touchscreen convenience, and a strikingly beautiful, ultra-slim ebony polish cabinet.
Introducing the Kawai Novus NV5: A hybrid instrument that delivers the true acoustic piano experience.
---
For more information about Novus hybrid pianos, please refer to the product pages below:
https://www.kawai-global.com/product/nv5
https://www.kawai-global.com/product/nv10
https://www.kawai-global.com/novus