News
January 15, 2020
Kawai announces new Concert Artist CA99 & CA79 digital pianos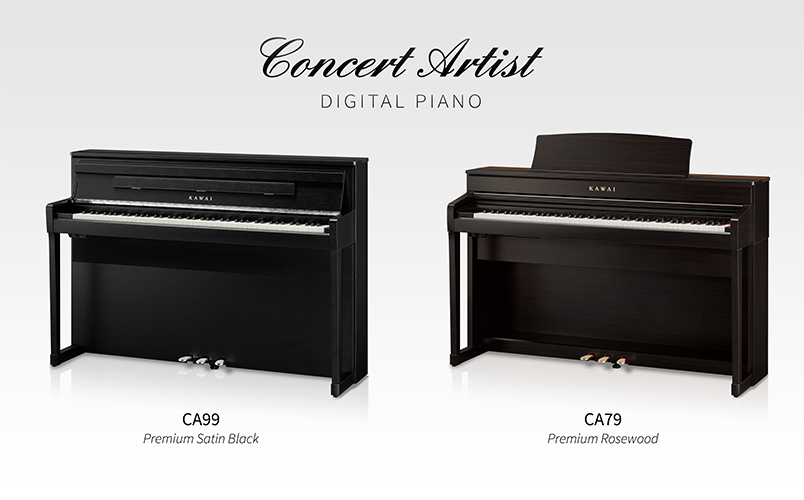 Kawai Japan is delighted to announce the CA99 and CA79, the latest high-performance additions to the popular Concert Artist series of premium digital pianos, and successors to the highly regarded CA98 and CA78.
These updated models incorporate the new Grand Feel III wooden-key keyboard action, delivering a firmer, faster, and even more grand piano-like touch feeling, while the improved SK-EX Rendering multi-channel sound engine features enhanced acoustic piano samples, with new Virtual Technician parameters to precisely control the attack, release, and sustain characteristics of each piano.  The CA99 and CA79 retain the high fidelity audio processing, powerful amplification, and rich speaker delivery of their predecessors, while also introducing new speaker diffuser panels.  These specially developed components expand the pianos' tonal projection in all directions, creating a 360° sound field that allows the instruments to sound natural for listeners everywhere in the room.
The CA99 and CA79 cheekblock touchscreen display features a brand new user interface that is optimised for pianists, while providing easy access to additional sounds and functions that inspire musical creativity.  Kawai's redesigned communication standard allows this new user interface to also be accessed as an app for iOS and supported Android devices, with all settings and adjustments recalled automatically every time the instrument is powered on.  Complementing this modern connectivity, the CA99 and CA79's Bluetooth Audio feature now supports the advanced aptX algorithm, allowing high quality audio to be streamed through the pianos' superb amplifier and speaker systems wirelessly, with minimal latency.  Finally, the appearance of both instruments has been modernised for 2020, with the flagship CA99 adopting a contemporary upright piano-inspired cabinet design, which also incorporates Kawai's Soft Fall closing mechanism.
Main Features
- Brand new Grand Feel III wooden-key keyboard action
- Advanced SK-EX Rendering multi-channel piano sound engine
- Premium audio processing, conversion, and amplification technologies
- High performance 6-speaker delivery system with 360° diffuser panels
- Unique 3rd generation TwinDrive soundboard speaker (CA99 only)
- Integrated Bluetooth® MIDI and audio with low latency aptX support
- Modern 5" LCD touchscreen display with intuitive swipe operation
- New communication system with dedicated Piano Remote iOS/Android app
- Flexible Virtual Technician function with 21 adjustable parameters
- Built-in Burgmüller, Czerny, Beyer, Chopin etudes and Alfred lesson songs
- Convenient WAV/MP3/MIDI file record and playback via USB memory
- Attractive cabinet designs available in wood grain and ebony polish finishes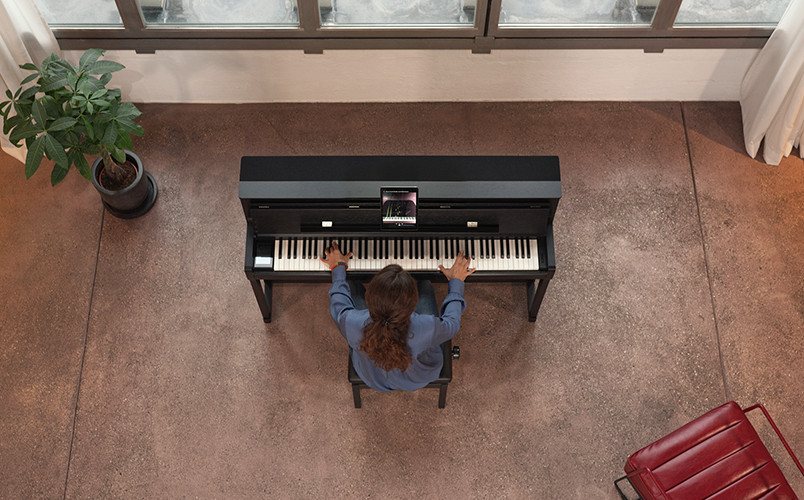 ---
For more information about the Concert Artist CA99 and CA79 digital pianos, please refer to the product pages below:
https://www.kawai-global.com/product/ca99
https://www.kawai-global.com/product/ca79