News
April 13, 2023
Kawai announces new Concert Artist CA401 & CA501 digital pianos
Kawai Japan is delighted to announce the CA401 and CA501, the latest high-performance additions to the popular Concert Artist series of premium digital pianos, and successors to the highly regarded CA49 and CA59.
These updated 2023 models retain the excellent Grand Feel Compact wooden-key keyboard action of their predecessors, while incorporating the new SK-EX Competition Grand piano sound inherited from the top-of-the-range CA901 and CA701 models. This latest recreation of the flagship Shigeru Kawai piano uses new sample data, specifically recorded from the player's perspective, and is characterised by a brilliant and clear sound with a distinctive attack. Complementing this stunning new piano sound, the CA401 utilises an improved AC power adapter, redesigned to deliver a smoother, clearer sound through both speakers and headphones. Meanwhile, the CA501 incorporates 360° diffuser panels mounted to the top facing speakers, which help to further expand the instrument's tonal projection in all directions.
Both models feature redesigned control panels, with a more intuitive button layout that complements their large OLED displays. In addition, wireless connectivity has also been refreshed, with Bluetooth MIDI and Bluetooth Audio components – the latter a new addition for the CA401 – adopting the latest v5 standard. This enhancement provides lower latency, improved reliability, and superior sound quality when paired with mobile devices, offering musicians greater flexibility in how they interact with their piano.
Finally, the attractive cabinets of the CA401 and CA501 have received a number of subtle design refinements, adopted from the larger CA701 model. The improved pedal positioning affords pianists a more comfortable playing position when practicing for extended periods of time, while newly added music rest score support pins can be raised to securely hold the pages of thicker notated scores in place. These refinements not only enhance the aesthetic appeal of the instruments, but also improve the overall playing experience, making the CA401 and CA501 even more attractive options for professional musicians and piano enthusiasts.
CA401/CA501 Main Features

- Class-leading Grand Feel Compact wooden-key keyboard action
- Stunning new SK-EX Competition Grand piano sounds
- High-performance sound delivery and speaker systems with 360° diffuser panels*
- Integrated Bluetooth® MIDI and audio using latest v5 standards
- Easy-to-use cheekblock control panel with high resolution OLED display
- Flexible Virtual Technician function with intuitive Smart Mode feature
- Built-in Burgmüller, Beyer, Chopin, Czerny etudes and Alfred lesson songs
- Support for Kawai's latest PianoRemote and PiaBookPlayer apps for iOS/Android
- WAV/MP3/MIDI file record and playback via USB memory*
- Attractive, modern cabinet design available in three different wood finishes
* CA501 only 

Grand Feel Compact wooden-key keyboard action with extended pivot length
The CA401 and CA501 are the latest Kawai digital pianos to utilise the Grand Feel Compact wooden-key keyboard action. As its name suggest, the GF Compact action has been designed to reproduce the authentic touch weight characteristics of the industry-leading Grand Feel keyboard actions, within a smaller form factor. This action retains the long wooden keysticks used for all 88 black and white keys, and the familiar seesaw mechanism employed by acoustic grand piano actions for centuries.
However, despite its smaller unit size, Grand Feel Compact features an extended key pivot length, providing a consistent touch weight when playing towards the rear of the keyboard. This crucial detail ensures the new CA401 and CA501 deliver the most realistic playing experience in their class. As with all modern wooden-key Kawai actions, Grand Feel Compact also incorporates grade-weighted hammers, bass region counterweights, and let-off simulation for added authenticity, while its accurate triple-sensor key detection system allows rapidly repeated notes such as trills to be performed smoothly, without unnatural breaks in sound.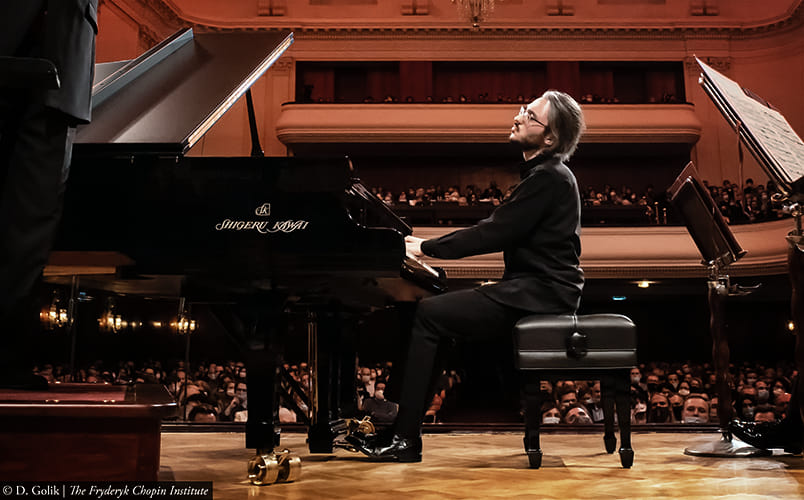 Shigeru Kawai SK-EX Competition grand piano sounds, high-performance speaker systems
Widely regarded as the 'premier pianos of Japan', Shigeru Kawai instruments grace the stages of concert halls and musical institutions throughout the world, and are prized for their tonal clarity and exceptional dynamic range. The magnificent tone of Kawai's flagship Shigeru Kawai SK-EX grand piano is at the heart of the CA401 and CA501, with the latest models featuring a distinctive recreation of this peerless instrument. The brand new SK-EX Competition Grand piano sound, accurately represents the latest generation SK-EX-L instruments that have received widespread acclaim and success at the Hamamatsu, Chopin, and Sendai international piano competitions in recent years. The SK-EX Competition Grand piano sound possesses a brilliant, clear tonal character, with a distinctive thick attack, and is specifically recorded from the pianist's position for the ultimate performance experience.
This stunning piano sound is delivered using high-performance audio hardware and speaker systems, with the CA501 boasting four speakers and new 360° diffuser panels that help to expand the instrument's tonal projection in all directions. Meanwhile, the CA401 features a newly engineered power adapter that contributes to an overall smoother, clearer sound, and ensures a faithful reproduction of the acoustic piano source – even when playing at high volume levels.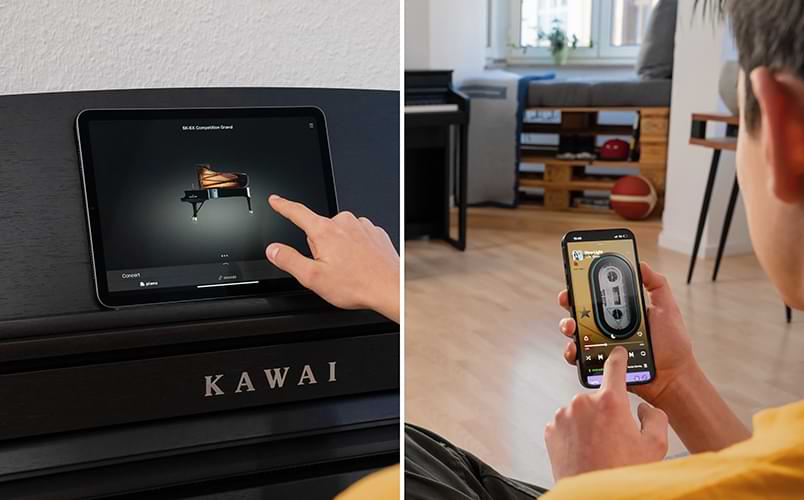 Integrated Bluetooth® connectivity with support for the latest apps
The impressive CA401 and CA501 offer a variety of useful features to complement their authentic keyboard touch and stunning grand piano sounds. Integrated Bluetooth MIDI and Bluetooth Audio v5 connectivity allows apps such as Kawai's dedicated PianoRemote control app, or a wide range of third-party learning and recreation apps to be enjoyed wirelessly, and for music streamed from a smartphone or tablet to be played through the pianos' impressive audio systems at low latency without any additional cables.
For aspiring pianists, the built-in lesson function featuring a variety of classical etudes is complemented by Kawai's PiaBookPlayer score viewing app, while the adjustable metronome and song recorder are both invaluable tools for developing a sense of rhythm and charting one's progress. An assortment of additional instrumental voices, along with Dual and Split playing modes add greater variety to players' performances, while the special Four Hands mode divides the keyboard into two independent sections, allowing teacher and student to practise and play together using a single instrument. The latest Concert Artist models also inherit Kawai's advanced SHS technology from the larger CA series instruments, enhancing the depth and realism of sounds heard through headphones or earphones, while also helping to reduce auditory fatigue when listening for extended periods of time.
The CA501 raises the bar further, with additional recorder functions that allow MP3 or WAV audio files to be recorded to a USB memory device directly on the instrument, and then shared with friends and family online. Both models include USB-MIDI ports for straight-forward wired connectivity with computers, while the CA501 also offers stereo Line In and Line Out jacks that allow the instrument to be enjoyed in larger settings such as churches or school halls.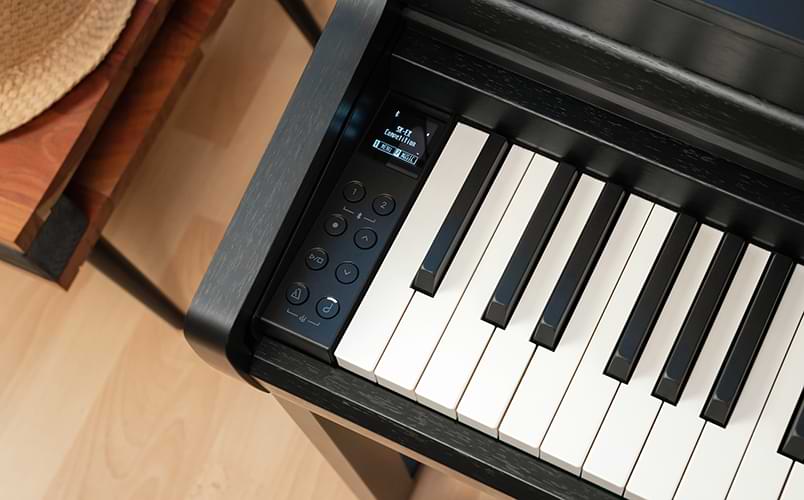 Modern cabinet appearance with discrete control panel and OLED display
The CA401 and CA501 are housed within premium quality wooden cabinets that incorporate a flat fascia and raised upper board, as well as a wide 3-position music rest with score support pins. The control panel for both models is discretely embedded inside the left cheek-block, with functions clearly printed directly onto each button, and high-resolution OLED displays that remain clear and easily readable from the seated position. The attractive curved leg and minimalist toe block design contributes to the pianos' streamlined appearance, with Premium Rosewood, Satin Black, and Satin White finishes that are suitable for a range of traditional and modern interiors.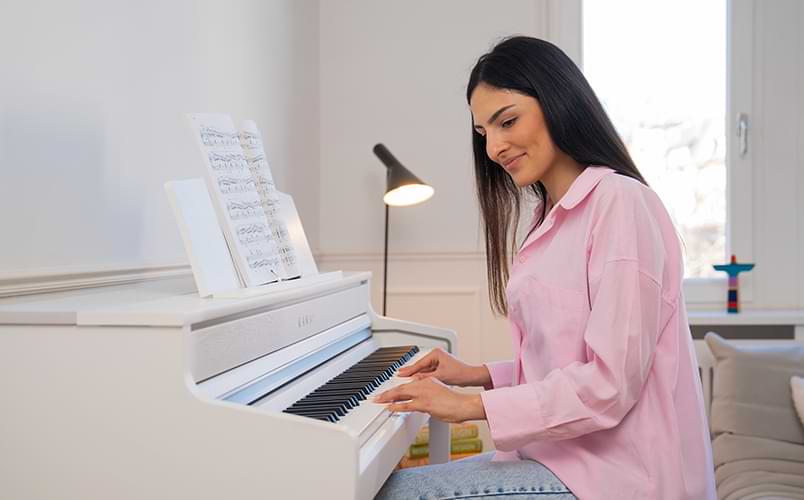 Stunning grand piano sounds, a superb wooden-key keyboard action, and a variety of modern, convenient features – all housed within an attractive, high quality cabinet. Introducing the Kawai Concert Artist CA401 and CA501: Feel inspired.
---
For more information about the CA401 and CA501 digital pianos, please refer to the product pages below:
https://www.kawai-global.com/product/ca401
https://www.kawai-global.com/product/ca501