News
April 4, 2016
Kawai announces new Classic Series CS11 & CS8 luxury digital pianos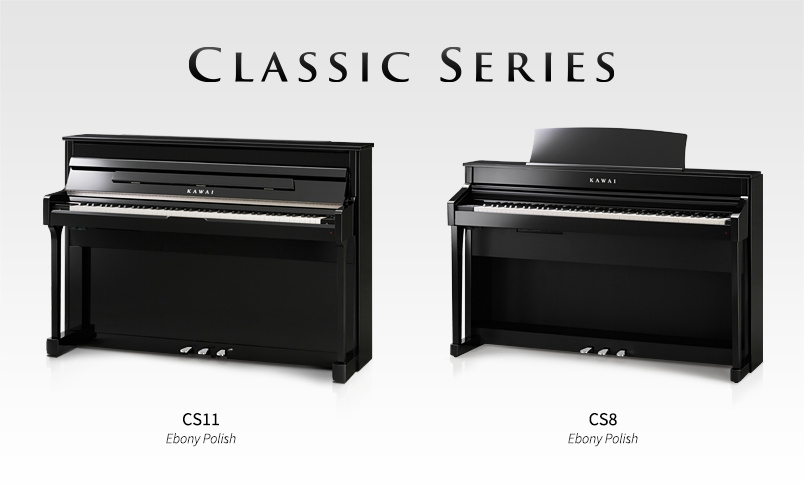 Kawai Japan is proud to announce two new additions to the Classic Series range of luxury digital pianos, the CS11 and CS8. These new models inherit the same Grand Feel II keyboard action and Harmonic Imaging XL sound technologies as the award winning Concert Artist CA97 and CA67 instruments, while also featuring stunning ebony polish cabinets that further raise the artistic aspirations of the performer.


Main Features
- Authentic reproduction of three grand pianos: SK-EX, SK-5, EX

- Flagship Harmonic Imaging XL sound technology, 88-key sampling
- Acoustic Rendering modelling technology
- Highly realistic Grand Feel II keyboard action, with Ivory & Ebony Touch key surfaces

- Powerful, high fidelity 6 speaker output systems

- Unique Soundboard Speaker System (CS11 only)
- Audiophile-quality headphone amplifier & Spatial Headphone Sound (SHS) technology
- Flexible Virtual Technician function with 19 adjustable parameters

- Integrated Lesson Function with wide selection of learning material

- WAV/MP3 audio record and playback via USB memory

- Luxurious ebony polish cabinet design, with silver-chrome fittings
Piano sound: Shigeru Kawai SK-EX, SK-5, and Kawai EX grand piano sounds
The CS11 & CS8 digital pianos capture the magnificent tone of Kawai's flagship Shigeru Kawai SK-EX full concert, and Shigeru Kawai SK-5 medium-sized grand pianos.  Widely regarded as the 'premier pianos of Japan', Shigeru Kawai instruments grace the stages of concert halls and musical institutions throughout the world, and are prized for their exceptional tonal clarity.  In addition, the CS11 & CS8 also feature the distinctive sound of Kawai's highly acclaimed EX concert grand piano, which has frequently been selected by professional pianists in such prestigious events as the Chopin, Tchaikovsky, and Rubenstein international piano competitions, among others.  All three instruments have been carefully recorded, meticulously analysed, and faithfully reproduced with full 88-key sampling using the latest Harmonic Imaging™ sound technology.
Piano sound: Acoustic Rendering modelling technology
On an acoustic piano, resonances produced by the strings, dampers, iron frame, soundboard, bridges, cabinet, etc. contribute subtle tonal characteristics that enrich the playing and listening experience.  The CS11 & CS8 recreate these various resonances using Acoustic Rendering modelling technology, with attributes such as Damper Resonance, String Resonance, Undamped String Resonance, Cabinet Resonance, etc. generated dynamically, in real-time, and giving Classic Series owners the impression that they are playing a living, breathing instrument.
Keyboard action: Grand Feel II wooden-key action with Ivory Touch & Ebony Touch key surfaces
The CS11 & CS8 digital pianos utilise Kawai's latest Grand Feel II keyboard action, building upon the strengths of its predecessor to deliver the most realistic playing experience available on a digital piano.  Ebony Touch key surfaces give black keys a premium look and feel to complement the existing Ivory Touch white key surfaces.  Modern 3D scanning techniques were applied in order to analyse the subtle wood grain of real ebony keys, before reproducing this distinctive texture within the moisture absorbent Ebony Touch material.  The result is natural, familiar black key surface that aids playing control, and gently caresses the fingertips when touched.
In addition to Ebony Touch key surfaces, the Grand Feel II keyboard action also features a revised hammer design, optimising the hammer's centre of gravity to improve the dynamic load of each key stroke.  Counterweights are also attached to all 88 keys, and graded from bass to treble, ensuring consistent weighting across the length of the keyboard during both pianissimo and fortissimo passages.
Headphone usage: Spatial Headphone Sound (SHS)
The CS11 and CS8 digital pianos inherit Kawai's Spatial Headphone Sound (SHS) technology, a special feature that enhances the depth and realism of the acoustic piano sound when listening through headphones or earphones.  The player can select one of three different acoustic presets that adjust the spatial positioning of the sound, while also helping to reduce auditory fatigue when using earphones or headphones for extended periods of time.
In addition, the CS11 and CS8 digital pianos also feature a dedicated, high fidelity headphone amplifier, utilising the same premium hardware found in audiophile music devices.  This technology significantly improves sound quality when using headphones, and allows players to select a variety of headphone types (Open, Semi-open, Closed, In-Ear, Canal, etc.) for an optimised listening experience.
Speaker system: Grand piano-like sound field
The latest Classic Series instruments feature high fidelity speaker systems that have been specially designed to deliver deep bass and crisp treble frequencies.  As the flagship model, the CS11 digital piano channels sound energy onto a wooden soundboard, which combines with 6 additional speakers to immerse the performer in a rich, organic tone.  In addition, the high specification CS8 also boasts an improved 6-way speaker system, with lower range frequencies delivered through the underside of the instrument, and mid and high frequencies projected outward via top-mounted and front-facing speakers.  The result is a broad, resonating sound that closely mirrors the tonal projection of a grand piano.
Virtual Technician: Powerful customisation at your fingertips
The CS11 and CS8 digital pianos feature Kawai's latest Virtual Technician technology, with new parameters to control modelled Undamped String Resonance and Cabinet Resonance algorithms, and a variety of improvements to existing functions such as precise 88-key voicing, and the ability to perform separate adjustments on each piano sound.  The Smart Mode feature intelligently performs multiple adjustments for the player at the touch of a button, by selecting preferred characteristics such as Soft, Strong, Brilliant, Dark, etc.  The latest Classic Series instruments also support the Virtual Technician iPad app, allowing players to learn about each adjustment, and tailor every aspect of their piano from an attractive touch interface.
Lesson function: Unrivalled selection of learning material
The CS11 and CS8 digital pianos include a convenient Lesson Function, allowing aspiring players to learn piano using classical etudes from Czerny, Burgmüller, Beyer, Bach and Chopin, or a collection of songs from the popular Alfred Basic, Adult, and Premier course books.  The left and right hand parts of each piece can be practiced separately, adjusting the tempo to perfect difficult passages, before being recorded for self-evaluation.  With over 500 built-in lessons and exercises, the Classic Series provides an unrivalled selection of learning material to support all levels of piano study.
Exterior design: Luxurious ebony polish cabinet
With almost 90 years of knowledge and experience in crafting the world's finest acoustic pianos, and three generations of proud family leadership, Kawai has earned a reputation for respecting traditional values.  The new Classic Series instruments pay tribute to this enduring legacy, with premium quality ebony polish cabinets, and handsome silver-chrome fittings.  As the flagship model, the stunning CS11 replicates the cabinet of a Kawai K Series upright piano, allowing musicians to enjoy the benefits of an advanced digital piano, while admiring the understated character of a truly classic design.
---
For more information about the Classic Series CS11 and CS8 digital pianos, please refer to the individual product pages below:
http://www.kawai-global.com/product/cs11/