News
October 12, 2018
Kawai announces new K-500 and K-300 AURES hybrid pianos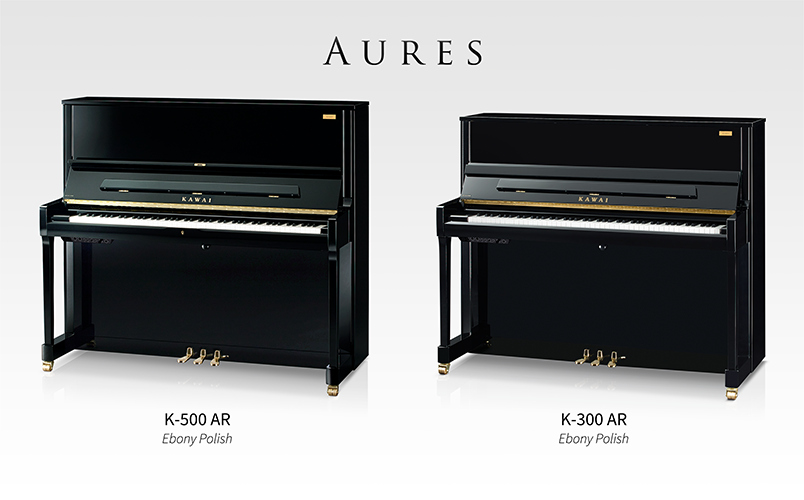 Kawai is proud to announce the new K-500 and K-300 AURES, the latest and most advanced addition to Kawai's class-leading line of hybrid instruments. The K-500 and K-300 AURES combine the superb craftsmanship and performance of Kawai's renowned K-500 and K-300 Professional Upright Pianos with the cutting-edge operation and sound technology of the awarding-winning Concert Artist Digital Pianos.  The result is the finest hybrid upright pianos on the market today.
AURES Soundboard Technology

Developed in collaboration with high-end audio manufacturer, Onkyo, the K-500 and K-300 AURES are equipped with Kawai's new Hybrid Soundboard Technology. This "speaker-less" soundboard amplification system is the first to use 4 high-performance transducers to generate extraordinary tone through the piano's tapered solid spruce soundboard. The AURES system produces its rich, natural-sounding digital tone through the soundboard only, without additional speakers.
SK-EX Rendering Sound Technology

The K-500 and K-300 AURES come equipped with Kawai's proprietary SK-EX Rendering sound technology – the same sound engine found on the award-winning CA98 digital piano. This new piano sound engine blends multi-channel, 88-key sampling with the latest resonance modeling technology to reproduce the magnificent tone and exceptional dynamic range of Kawai's flagship Shigeru Kawai SK-EX concert grand piano, the premier piano of Japan.
Full-Colour Touchscreen Display

The K-500 and K-300 AURES are also the first instruments of their kind to feature a full-colour 5" high-resolution touchscreen display embedded within the instruments' left cheek block. By simply tapping or swiping with a finger, the player can choose from a wide and diverse selection of sounds and adjust a myriad of internal settings that provide infinite flexibility. The touchscreen can also be set to turn off automatically while playing, which minimises any visual distraction to the performer.
Award-winning K Series Professional Upright Piano

Exceptional acoustic piano tone is provided by the K-500 and K-300 Professional Upright that features the revolutionary Millennium III Upright Action, considered by many to be the finest upright action in the world.  A tapered solid spruce soundboard, mahogany hammer mouldings and extended length keys are other key features that embody Kawai's commitment to provide the finest touch and tone in the industry.
About Kawai
Kawai is a global corporation with distribution in virtually every major market in the world. From its beginnings in 1927 in Hamamatsu, Japan, the company has been committed to an ongoing quest to perfect the art of the piano. One of the world's largest music instrument manufacturers, Kawai celebrated its 90th anniversary in 2017 and is one of the few piano companies still led by members of its founding family.
---
For more information about the AURES series of hybrid pianos, please refer to the webpage below: