News
August 1, 2018
Kawai announces new Classic Series CS11W white polish luxury digital piano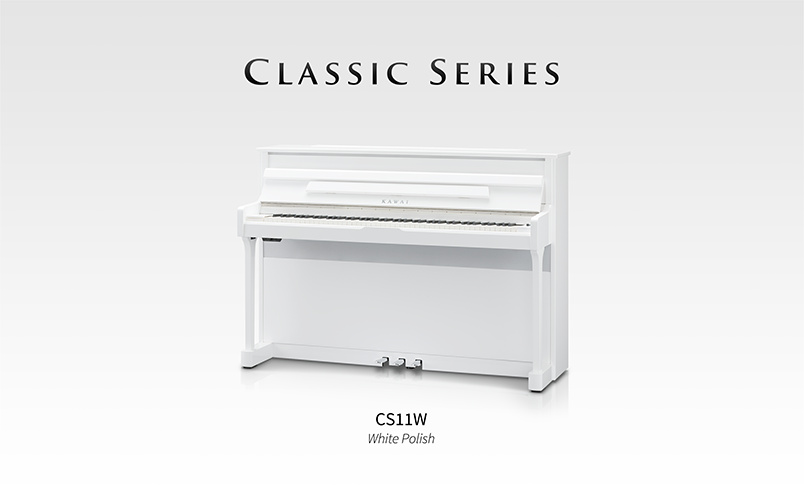 Kawai Japan is excited to announce the CS11W, the latest addition to the Classic Series range of luxury digital pianos, and the first Kawai digital instrument to be presented in an elegant white polish finish.
First unveiled in 2011, the Classic Series range of high specification digital pianos combine Kawai's leading keyboard action and piano sampling sound technologies, with stunning polished cabinet designs that raise the artistic aspirations of the performer. Modelled on the appearance of a Kawai 'K Series' upright piano, the CS11W is the perfect instrument for pianists who appreciate the benefits of owning a digital piano, yet still admire the understated character of a truly classic design.
As the top model of the Classic Series range, the CS11W features Kawai's finest Grand Feel II keyboard action with extended-length, fully wooden keys and Ivory and Ebony Touch key surfaces, while its expressive Harmonic Imaging XL piano sampling technology reproduces the beautiful sounds of the Shigeru Kawai SK-EX, SK-5, and Kawai EX acoustic grand pianos with stunning authenticity.  In addition to its realistic keyboard action and sound technologies, the CS11W also offers a variety of convenient digital features accessible from the instrument's cheekblock control panel. However, this panel can be easily concealed when not in use, thus preserving the CS11W's acoustic piano-like appearance, and allowing performers to enjoy the simple pleasure of playing music without the visual distraction of flashing lights and rows of buttons.
Summarising the appeal of the CS11W, Michael Kunz, Senior Product Manager at Kawai Europa explained:
" The original black polish CS11 is widely considered to be one of the most beautiful digital pianos available. We received many requests to develop a white polish version of the instrument, and we're confident that this elegant new finish will prove popular among customers with lighter home interiors."
The CS11W is scheduled for initial release in Europe from September, with other regions to follow shortly after.
About Kawai
Kawai is a global corporation with distribution in virtually every major market in the world. From its beginnings in 1927 in Hamamatsu, Japan, the company has been committed to an ongoing quest to perfect the art of the piano. One of the world's largest music instrument manufacturers, Kawai celebrated its 90th anniversary in 2017 and is one of the few piano companies still led by members of its founding family.
---
For more information about the Classic Series CS11W digital piano, please refer to the product page below: