News
October 19, 2018
Kawai announces Crystal Grand Piano special order programme, limited to 5 pieces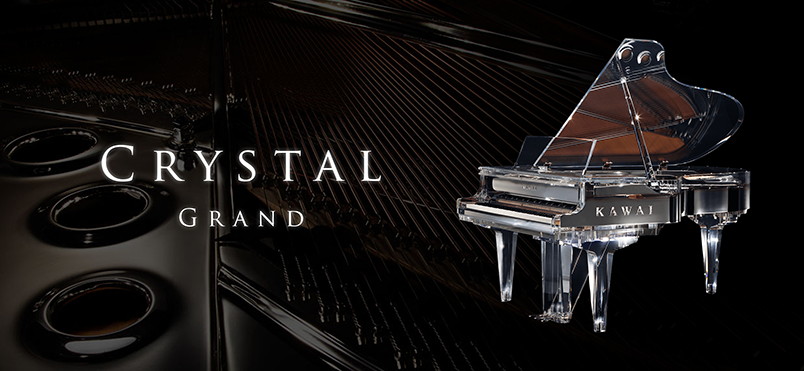 Kawai is delighted to announce the launch of a special order programme for the company's prestigious Crystal Grand Piano. The special order programme – which will be limited to just 5 pieces – allows individuals to customise the Crystal Grand Piano to match their unique personal preferences.
Unveiled in 2017 to coincide with Kawai's 90th anniversary celebrations, the Crystal Grand Piano has been adopted by X JAPAN band-leader YOSHIKI for ensemble and solo performances at musical events around the globe. In addition, the Crystal Grand Piano has also been showcased at various international exhibitions, including Milano Salone, the world's largest design event. To mark the launch of the special order programme, the Crystal Grand Piano is to be presented at the Tokyo Midtown DESIGN TOUCH 2018 exhibition, held in Tokyo Japan from 19th October ~ 4th November.
For more information about the Crystal Grand Piano special order programme, please refer to the website below:
http://www.kawai-global.com/kawai_design_event/
About Tokyo Midtown DESIGN TOUCH
Tokyo Midtown DESIGN TOUCH is an annual design event established with the concept of "enjoying designs using all five senses". The theme of this year's event is "Future Ideas", with Kawai demonstrating its vision by exhibiting the unique Crystal Grand Piano.
About Kawai
Kawai is a global corporation with distribution in virtually every major market in the world. From its beginnings in 1927 in Hamamatsu, Japan, the company has been committed to an ongoing quest to perfect the art of the piano. One of the world's largest music instrument manufacturers, Kawai celebrated its 90th anniversary in 2017 and is one of the few piano companies in the world still led by members of its founding family.