News
October 1, 2018
Kawai announces new Concert Artist CA98 & CA78 ebony polish digital pianos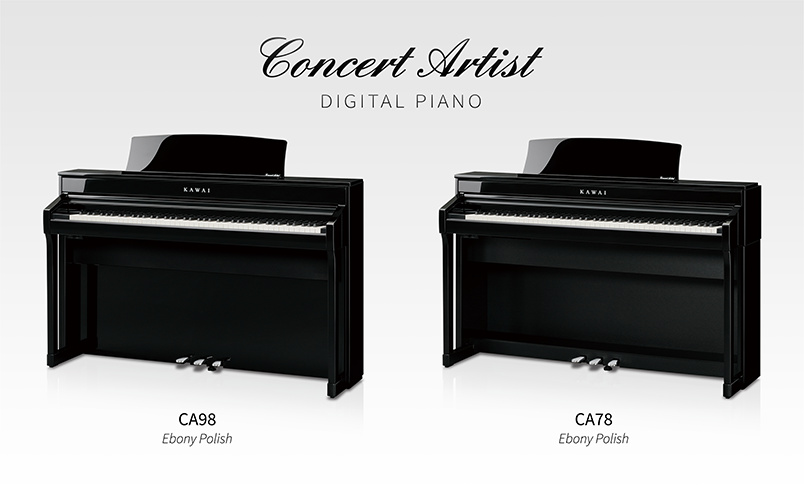 Kawai is proud to introduce the latest additions to the Concert Artist range of premium digital pianos – the luxurious CA98 and CA78 ebony polish.
These stunning instruments retain the exceptional keyboard action and piano sound authenticity of the standard wood finish models, while offering piano purists a more sophisticated cabinet appearance. As the flagship model of the series, the CA98 ebony polish features a single piece cabinet that is covered from top to bottom with a crystal-clear, almost mirror-like finish, courtesy of Kawai's dedicated acoustic piano painting facility.
However, the CA98 and CA78 ebony polish are far more than just handsome additions to one's living space, for inside their finely crafted, gleaming black cabinets lies Kawai's advanced digital piano keyboard action and sound technology, ensuring that these outstanding instruments play as beautifully as they look.
Both models incorporate Kawai's finest Grand Feel II keyboard action with extended-length, fully wooden keys and Ivory & Ebony Touch key surfaces, while the latest SK-EX Rendering sound engine combines both multi-channel sampling and resonance modelling to reproduce the rich tonal character of the flagship Shigeru Kawai SK-EX concert grand piano with breathtaking authenticity. This beautiful sound is delivered using amplification, and speaker technologies developed in collaboration with Japanese audio specialists Onkyo, while modern features such as a large touchscreen display and built-in Bluetooth® ensure intuitive operation and convenient connectivity with smart devices.
Commenting on the CA98 and CA78 ebony polish, Alan Palmer, Digital Piano Product Manager at Kawai America explained:
"We are excited to be introducing the ebony polish finish to the Concert Artist range. The quality of this finish is absolutely superb, and complements the premium specifications of the CA98 and CA78 beautifully."
The CA98 and CA78 ebony polish are scheduled for initial release in Europe from November, with other regions to follow shortly after.

About Kawai
Kawai is a global corporation with distribution in virtually every major market in the world. From its beginnings in 1927 in Hamamatsu, Japan, the company has been committed to an ongoing quest to perfect the art of the piano. One of the world's largest music instrument manufacturers, Kawai celebrated its 90th anniversary in 2017 and is one of the few piano companies still led by members of its founding family.
---
For more information about the Concert Artist series of digital pianos, please refer to the webpage below: