News
January 18, 2018
Kawai announces new Concert Artist CA58 digital piano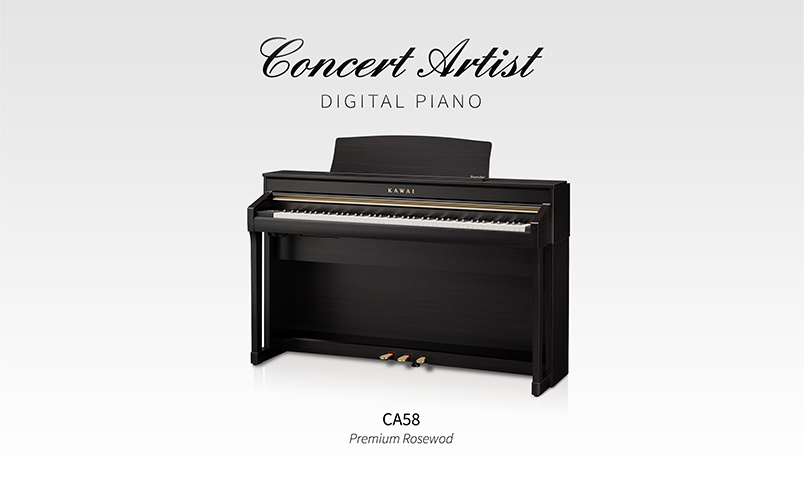 Kawai Japan is proud to announce the CA58 digital piano, the latest addition to the popular Concert Artist series of digital pianos, and the fourth model of the '8 series' range.  This attractive instrument combines Kawai's new Grand Feel Compact wooden-key keyboard action and Harmonic Imaging XL sound engine, featuring Shigeru Kawai SK-EX and Kawai EX concert grand piano sounds, while also boasting built-in Bluetooth® wireless connectivity, a powerful 4-speaker 100W output system, and a premium quality cabinet design, delivering best-in-class touch, tone, and features at an outstanding price.
Main Features
- New Grand Feel Compact wooden-key keyboard action
- Stunning Shigeru Kawai SK-EX and Kawai EX concert grand piano sounds, with full 88-key sampling
- Integrated Bluetooth® MIDI for wireless communication with smart devices
- Powerful, 100W high fidelity 4-speaker output system
- Flexible Virtual Technician function with intuitive Smart Mode feature
- USB, MIDI, and Line In/Out connectivity, with MP3/WAV audio record and playback
- Built-in Burgmüller, Czerny, Beyer etudes and Alfred lesson songs
- Premium quality cabinet design available in three different wood finishes
Grand Feel Compact wooden-key keyboard action with extended pivot length
The CA58 is the latest Kawai digital piano to utilise the new Grand Feel Compact wooden-key keyboard action.  As its name suggest, the GF Compact action has been designed to reproduce the authentic touch weight characteristics of the industry-leading Grand Feel keyboard actions, within a smaller form factor.
The new action retains the long wooden keysticks used for all 88 black and white keys, and the familiar seesaw mechanism employed by acoustic grand piano actions for centuries.  However, despite its smaller unit size, GF Compact features an extended key pivot length, providing a more consistent touch weight when playing towards the rear of the keyboard.  This crucial detail ensures the new CA58 delivers the most realistic playing experience in its class, surpassing even the venerable RM3 Grand actions utilised by some of Kawai's best-selling Concert Artist models.
As with all modern wooden-key Kawai actions, Grand Feel Compact incorporates grade-weighted hammers, bass region counterweights, and let-off simulation for added authenticity, while its accurate triple-sensor key detection system allows rapidly repeated notes such as trills to be performed smoothly, without unnatural breaks in sound.
Shigeru Kawai SK-EX and Kawai EX concert grand pianos reproduced with 88-key sampling
The rich, expressive sound of Kawai's celebrated grand pianos are at the heart of the new CA58 digital piano, with two world-class instruments lovingly recorded and faithfully produced using full 88-key stereo sampling: the flagship Shigeru Kawai SK-EX, and the highly-acclaimed Kawai EX.  With two distinctive Kawai grand pianos and even a traditional upright readily available, CA58 players can explore a variety of different piano sounds, and enjoy the contrasting properties of each.
The new CA58 utilises Kawai's advanced Harmonic Imaging XL technology, incorporating extra-long sampling and algorithms that reproduce how an acoustic piano's tonal character changes as dynamics increase.  This ensures seamless expression when playing from gentle pianissimo to thunderous fortissimo, without sudden changes in sound.  And with an impressive 256 note polyphony, professional players need never worry about held notes 'dropping out' unexpectedly during more complicated passages.
Virtual Technician adjustments to personalise the instrument's character
The CA58 digital piano's Virtual Technician feature allows various characteristics of the selected acoustic piano, electric piano, or harpsichord sound to be shaped at the touch of a button, with settings to adjust voicing and regulation, string, damper, and cabinet resonances, and subtle hammer, damper, and key release noises. It is even possible to adjust the precise tuning and volume of individual notes, before storing one's personalised instrument configuration to memory.
Bluetooth MIDI, Built-in lessons, MP3/WAV audio record & playback
The impressive CA58 offers a variety of useful features to complement its authentic wooden-key touch and stunning grand piano sounds.  Integrated Bluetooth MIDI allows the instruments to communicate with supported smart devices, using Kawai's Sound Museum and Virtual Technician apps to select and adjust sounds wirelessly, while the built-in lesson function (featuring a variety of classical etudes and Alfred songs), adjustable metronome and song recorder, are invaluable tools for aspiring pianists.  An assortment of additional instrumental voices, combined with the Dual playing mode adds greater variety to players' performances, while the special Four Hands mode divides the keyboard into two independent sections, allowing teacher and student to practise and play together using a single instrument.  Kawai's advanced SHS technology is also included, enhancing the depth and realism of sounds heard through headphones or earphones, while also helping to reduce auditory fatigue when listening for extended periods of time.
The CA58's powerful recorder function allows MP3 and WAV audio and MIDI song files stored on a USB memory device to be played back through the instrument's high fidelity 100W 4-speaker output system, or for performances to be recorded, overdubbed, and shared with friends and family online.  The fully-featured Concert Artist includes USB-MIDI and standard MIDI connectors for flexibility with computers and other devices, and also offers stereo Line In and Line Out jacks that allow the instrument to be enjoyed in larger settings such as churches or school halls.
Modern cabinet design with wide, 3-position adjustable music rest
The CA58 is housed within a premium quality wooden cabinet that incorporate a flat fascia and raised upper board, giving this instrument a classic, upright piano-like character.  The Concert Artist's broad music rest is engineered to accommodate the most ambitious musical works, with a high-quality surface and attractive round design.  As with a grand piano, the viewing angle of the instrument's music rest can be adjusted to suit the performer's playing position, or laid flat for convenience when notating scores or sketching musical ideas.  The CA58 is available in three attractive cabinet finishes: Premium Rosewood, Premium Satin Black, and Premium Satin White, allowing musicians to coordinate their piano with a range of traditional or modern interiors.
A superb wooden-key keyboard action, stunning grand piano sounds, and a variety of modern, convenient features – all housed within an attractive and inspiring cabinet.
Introducing the Kawai CA58: Best-in-class touch, tone, and features at an outstanding price.
---
For more information about the Concert Artist CA58 digital piano, please refer to the product page below: