News
January 10, 2017
Kawai announces new ES110 ultra-portable digital piano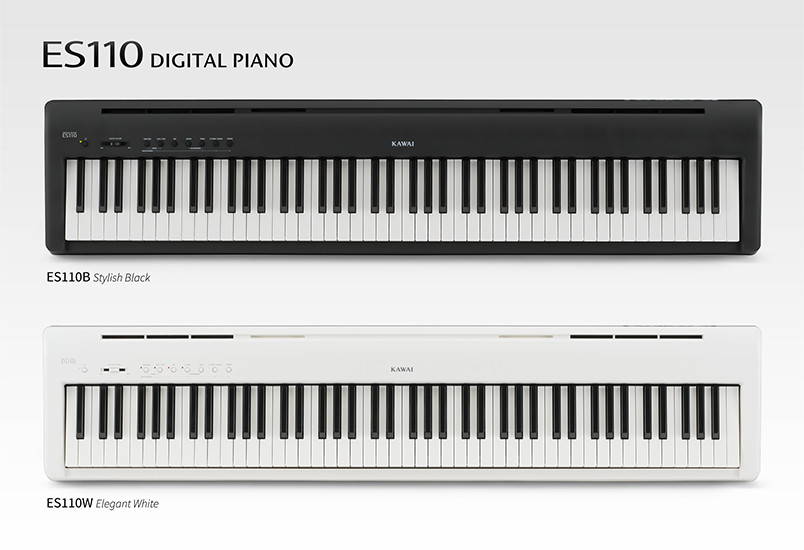 Kawai Japan is proud to announce the ES110, the latest addition to the highly respected ES range of portable digital pianos, and successor to the best-selling ES100. This updated model features a brand new Responsive Hammer Compact keyboard action, Harmonic Imaging 88-key piano sampling, dedicated Line Out jacks, and built-in Bluetooth® wireless connectivity to deliver gig-friendly grand piano touch and tone at a remarkably affordable price.


Main Features
- Brand new Responsive Hammer Compact keyboard action
- Authentic Harmonic Imaging sound technology, with 88-key Kawai EX sampling

- Integrated Bluetooth MIDI for wireless communication with smart devices

- Dedicated stereo Line Out connectors

- Built-in Burgmüller etudes and Alfred lesson songs

- Convenient metronome function with 100 rhythm patterns

- Improved stereo speaker system

- Lightweight (12 kg), gig-friendly body construction

- Contemporary design with matching stand & triple pedal accessories available
Keyboard action: Responsive Hammer Compact weighted-key action

Kawai's digital piano keyboard actions set the industry benchmark for touch authenticity, expression, and control. The new Responsive Hammer Compact action utilised by the ES110 adheres to these core principals, while also acknowledging the importance of portability.  As its name suggests, the RH Compact action design is based on the mechanism of the popular Responsive Hammer action utilised by Kawai's award-winning MP, CN, and larger ES models, yet has been specially developed to deliver the most realistic grand piano touch possible within a compact, lightweight form factor.  The result is a highly expressive keyboard with superb fortissimo and pianissimo control, that's 70% lighter (in terms of physical weight) than the venerable AHA IV-F action utilised by the ES110's predecessor, while also offering the structural rigidity and low-noise characteristics of the modern Responsive Hammer action design.  RH Compact raises the bar for portable digital piano keyboard quality, and ensures that the ES110 will satisfy even the most discerning pianists.
Piano sound: Kawai EX concert grand reproduced with 88-key sampling
Connected to this superb keyboard action is the rich, expressive sound of Kawai's celebrated EX concert grand piano – widely regarded by professional pianists and piano technicians as one of the finest instruments within its class.  All 88 keys of this exceptional instrument have been meticulously recorded, analysed and faithfully reproduced as high-fidelity digital waveforms.  Recording each key individually in this way preserves the rich harmonic character of the EX concert grand piano, and guarantees that the sound heard when playing any one of the ES110's weighted keys is an accurate representation of the original acoustic source.  Kawai's advanced Harmonic Imaging sound technology ensures seamless expression when playing from gentle pianissimo to thunderous fortissimo, while the impressive 192 note polyphony allows complicated passages that utilise the damper pedal to be enjoyed without notes 'dropping out' unexpectedly.
Convenient features: Bluetooth MIDI, Line Out connectivity, built-in lessons
The impressive ES110 offers a variety of useful features to complement its authentic keyboard touch and rich grand piano sounds.  Integrated Bluetooth MIDI allows the instrument to communicate with supported smart devices, using Kawai's Sound Museum and Virtual Technician apps to select and adjust sounds wirelessly, while gigging musicians will appreciate the dedicated stereo Line Out jacks for direct connection to mixers, external speakers, or PAs. The built-in lesson function, with adjustable metronome and song recorder, is an invaluable tool for aspiring pianists, while additional instrument voices, Dual and Split playing modes, and 100 drum rhythms allow players of all levels to indulge their creative spirit.
Available in stylish black or elegant white finishes, the compact ES110 is suitable for the lounge, bedroom, or stage.  And at just 12 kilograms (26.5 lbs.), this portable instrument is light enough to be carried around the home, school, or place of worship with comfortable ease.  A sturdy damper pedal with half-damping functionality is included, with matching designer stand and triple pedal accessories also available to transform the ES110 into an ultra-compact piano replacement.
Superb keyboard action, stunning grand piano sounds, and a variety of modern, convenient features – all housed within a compact instrument suitable for a broad range of musical occasions.  Kawai ES110: Ultra-portable grand piano performance at an affordable price.
---
For more information about the ES110 portable digital piano, please refer to the product page below:
http://www.kawai-global.com/product/es110
The new ES110 portable digital piano will be exhibited at the Winter NAMM Show (19th~22nd January), at the Kawai booth on the second floor of the convention centre (207AB).