News
January 10, 2017
Kawai announces new CN37 & CN27 digital pianos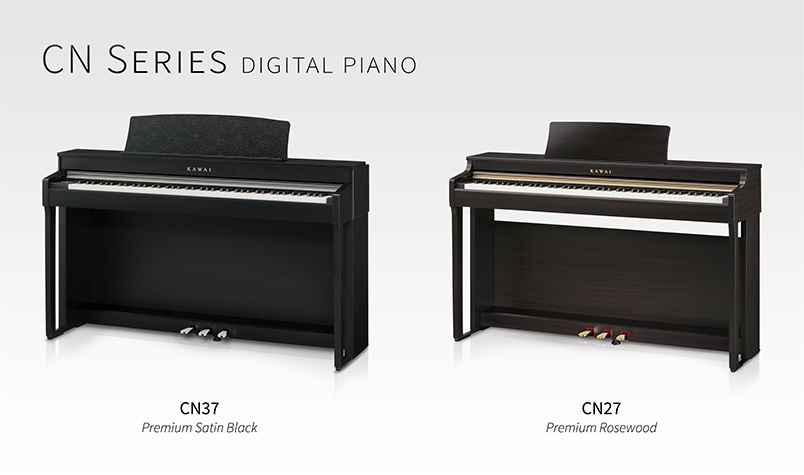 Kawai Japan is proud to announce the CN37 and CN27, the latest additions to the popular CN Series of digital pianos, and successors to the highly successful CN35 and CN25. These updated models feature stunning Shigeru Kawai SK-EX and Kawai EX concert grand piano sounds, the class-leading Responsive Hammer III keyboard action, built-in Bluetooth® wireless connectivity, improved Virtual Technician functions and SHS headphone enhancements, and modernised cabinet designs, delivering a new standard in digital piano value and performance.
Main Features
- Stunning Shigeru Kawai SK-EX and Kawai EX concert grand piano sounds, with full 88-key sampling

- Class-leading Responsive Hammer III grade-weighted keyboard action

- Integrated Bluetooth MIDI for wireless communication with smart devices

- Flexible Virtual Technician function with new intuitive Smart Mode feature

- Built-in Burgmüller, Czerny, Beyer etudes and Alfred lesson songs

- WAV/MP3/MIDI file record and playback via USB memory

(CN37 only)

- Powerful four speaker 40 W output system

(CN37 only)

- Attractive, modern cabinet design available in three different wood finishes

Piano sound: Shigeru Kawai SK-EX and Kawai EX concert grand pianos reproduced with 88-key sampling
The rich, expressive sound of Kawai's celebrated grand pianos are at the heart of the new CN Series, two world-class instruments lovingly recorded and faithfully produced using full 88-key stereo sampling: the flagship Shigeru Kawai SK-EX, and the highly-acclaimed Kawai EX.  With two distinctive Kawai grand pianos and even a traditional upright readily available, CN37 and CN27 players can explore a variety of different piano sounds, and enjoy the contrasting properties of each.
The new CN Series utilise Kawai's advanced Progressive Harmonic Imaging technology, with algorithms that reproduce string and damper resonance, and how an acoustic piano's tonal character changes as dynamics increase.  This ensures seamless expression when playing from gentle pianissimo to thunderous fortissimo, without sudden changes in sound.  And with an impressive 256 note polyphony, professional players need never worry about held notes 'dropping out' unexpectedly during more complicated passages.
Keyboard action: Responsive Hammer III weighted-key action
Connecting the CN Series' stunning grand piano sounds to the player is the class-leading Responsive Hammer III keyboard.  This highly-regarded action features graded hammers that replicate the heavier bass and lighter treble hammers of an acoustic piano, with additional counterweights embedded within the front of each black and white key that assist playing control during pianissimo passages.  The CN37 and CN27 utilise a modern triple sensor key detection system for improved repetition speed and responsiveness, allowing a greater range of expressive control from staccato to legato playing.  The Responsive Hammer III action is equipped with premium Ivory Touch key surfaces that gently absorb fingertip perspiration to aid playing accuracy, and possess an attractive, natural matte finish that is smooth but not slippery.  And underlining Kawai's rich acoustic piano pedigree, the CN Series' keyboard even simulates the subtle 'let-off' resistance felt when playing the keys of a grand piano very softly, satisfying the expectations of the most experienced pianists.
Convenient features: Bluetooth MIDI, Line Out connectivity, built-in lessons
The impressive CN37 and CN27 offer a variety of useful features to complement their stunning grand piano sounds and authentic keyboard touch.  Integrated Bluetooth MIDI allows the instruments to communicate with supported smart devices, using Kawai's Sound Museum and Virtual Technician apps to select and adjust sounds wirelessly, while the built-in lesson function (featuring a variety of classical etudes and Alfred songs), adjustable metronome and song recorder, are invaluable tools for aspiring pianists. A rich assortment of additional instrumental voices, along with Dual and Split playing modes add greater variety to players' performances, while the special Four Hands mode divides the keyboard into two independent sections, allowing teacher and student to practise and play together using a single instrument.  The latest CN Series models also inherit Kawai's advanced SHS technology from the larger CS and CA Series instruments, enhancing the depth and realism of sounds heard through headphones or earphones, while also helping to reduce auditory fatigue when listening for extended periods of time.
The CN37's powerful recorder function allows MP3 and WAV audio and MIDI song files stored on a USB memory device to be played back through the instrument's high fidelity 4-speaker output system, or for performances to be recorded, overdubbed, and shared with friends and family online.  Both CN Series models include USB-MIDI and standard MIDI connectors for flexibility with computers and other devices, while the CN37 also offers stereo Line In and Line Out jacks that allow the instrument to be enjoyed in larger settings such as churches or school halls.
Attractive design: Modern cabinet appearance
The new CN Series models are housed within premium quality wooden cabinets that incorporate a flat fascia and raised upper board, giving these instruments a classic, upright piano-like character.  Their attractive curved leg and minimalist toe block design contributes to the pianos' slender appearance, with Premium Rosewood, Satin Black, and Satin White finishes that are suitable for a range of traditional and modern interiors.
Stunning grand piano sounds, a class-leading keyboard action, and a variety of modern, convenient features – all housed within an attractive, premium quality cabinet.  Kawai CN Series: A new standard in digital piano value and performance.
---
For more information about the CN37 and CN27 digital pianos, please refer to the product pages below:
http://www.kawai-global.com/product/cn37
http://www.kawai-global.com/product/cn27
The new CN37 and CN27 digital pianos will be exhibited at the Winter NAMM Show (19th~22nd January), at the Kawai booth on the second floor of the convention centre (207AB).