News
October 5, 2017
Kawai announces new Concert Artist CA98 & CA78 digital pianos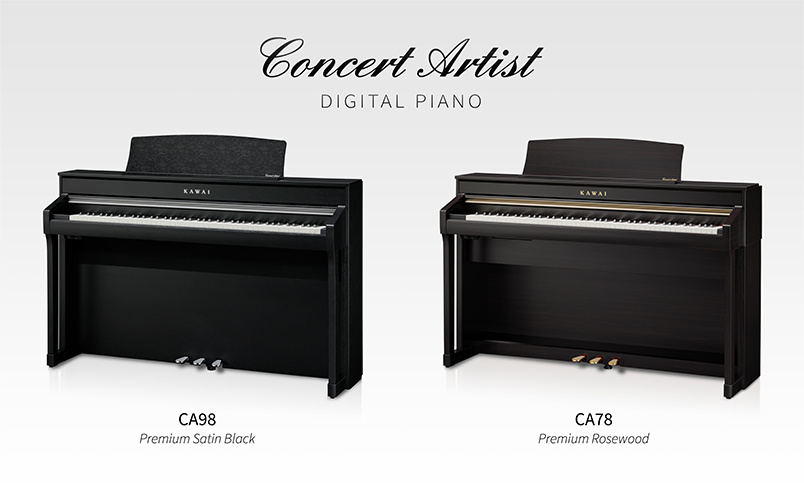 Kawai Japan is proud to announce the CA98 and CA78, the latest high-performance additions to the popular Concert Artist series of digital pianos, and successors to the highly successful CA97 and CA67.  These updated models feature the brand new SK-EX Rendering piano sound engine with multi-channel sampling and resonance modelling, the industry's leading Grand Feel II wooden-key keyboard action, premium amplification and speaker technologies developed in collaboration with audio specialists Onkyo, built-in Bluetooth® MIDI and Audio connectivity, and a stunning 5″ LCD touchscreen display embedded within the instruments' left cheekblock.  Incorporating a variety of modern technologies, the impressive CA98 and CA78 combine ultra-realistic touch with premium quality sound to deliver the concert grand experience in the comfort of your home.
Main Features
- Brand new SK-EX Rendering piano sound engine (multi-channel sampling + resonance modelling)
- Industry-leading Grand Feel II wooden-key keyboard action
- Premium audio processing, amplification, and speaker technologies powered by Onkyo
- 3rd generation TwinDrive Soundboard Speaker system featuring Onkyo transducers (CA98 only)
- Integrated Bluetooth® MIDI and Audio for wireless communication with smart devices
- Modern 5″ LCD touchscreen display with intuitive swipe operation
- Flexible Virtual Technician function with 19 adjustable parameters
- Built-in Burgmüller, Czerny, Beyer, Chopin etudes and Alfred lesson songs
- Convenient WAV/MP3/MIDI file record and playback via USB memory
- Attractive cabinet designs available in three different wood finishes
Shigeru Kawai SK-EX concert grand piano reproduced with new SK-EX Rendering sound technology
The magnificent tone of Kawai's flagship Shigeru Kawai SK-EX full concert grand piano is at the heart of the CA98 and CA78 digital pianos. Widely regarded as the 'premier pianos of Japan', Shigeru Kawai instruments grace the stages of concert halls and musical institutions throughout the world, and are prized for their tonal clarity and exceptional dynamic range.
In order to faithfully reproduce the stunning sound of a Shigeru digitally, Kawai has developed SK-EX Rendering – a brand new piano sound engine that blends multi-channel, 88-key sampling with the latest resonance modelling technology.  Multi-channel sampling captures the sound from different points of the Shigeru Kawai concert grand piano, allowing a broader range of tonal characteristics to be reproduced, and providing a more lively, authentic response to changes in dynamics.  This naturally expressive sound is further enriched by newly developed resonance algorithms, which physically model the complex tonal interactions produced by the strings, damper, and various other parts of an acoustic piano, giving players the impression that they're sitting at a living, breathing instrument.
Grand Feel II wooden-key action with Ebony & Ivory Touch key surfaces, counterweights, and 'Let-Off' mechanism
Articulating this beautiful SK-EX sound is the superb Grand Feel II wooden-key keyboard action, which draws upon Kawai's 90 years of acoustic piano craftsmanship to provide an exceptionally realistic playing experience.  As with a grand piano, all of the Grand Feel II action's eighty-eight black and white keys are crafted entirely from long pieces of wood, and pivot on a central balance pin with a smooth, seesaw-like motion.  This natural movement throws grade-weighted metal hammers located at the back of the keyboard, with their individual velocities precisely measured using triple-sensor technology for improved responsiveness and realism.
The Grand Feel II action's extended wooden keys also boast an extra-long pivot length – matching that of a Kawai acoustic grand piano.  This provides a more consistent touch weight when playing towards the rear of the keyboard, while additional counterweights placed below each key help to further balance the weight of the action during pianissimo passages.  Finally, the Grand Feel II keyboard action also features Kawai's Ebony & Ivory Touch key surfaces that gently absorb moisture to assist playing control, and possess a natural matte finish that is smooth, but not slippery.
Premium audio processing, amplification, and speaker technology – powered by Onkyo
Developed in collaboration with Onkyo, one of Japan's leading premium audio equipment manufacturers, the CA98 and CA78 digital pianos are the first musical instruments to utilise specialist components designed for high-end audio reproduction.  With state of the art technologies such as 1-bit DSD processing, dual DAC signal conversion, and Onkyo's exclusive DIDRC circuitry, the Concert Artists' optimised power amplifiers reproduce the Shigeru Kawai grand piano sound with stunning richness and clarity.
As the flagship model, the CA98 features a considerably improved speaker system that pairs premium Onkyo driver units with Kawai's newly developed TwinDrive soundboard.  This unique acoustic projection technology harnesses the latest Onkyo transducer components to channel sound energy onto a real wooden soundboard, resulting in a richer, more natural piano tone that immerses the performer.
Both Concert Artist models also incorporate Onkyo's brand new high-performance Discrete SpectraModule™ headphone amplifier, which combines with Kawai's existing Spatial Headphone Sound (SHS) technology to ensure the finest quality and most engaging listening experience, even when playing in privacy.
Integrated Bluetooth® MIDI and Audio connectivity
In addition to standard USB and MIDI jacks for connecting to computers or other instruments, the CA98 and CA78 digital pianos also feature integrated Bluetooth® MIDI and Audio technology that allows these instruments to communicate with supported smart devices wirelessly.  Once paired with a phone, tablet, or laptop, Concert Artist owners can enjoy a wide variety of exciting music-related apps that enhance their learning and playing experience, or stream audio from songs and videos directly through the instruments' premium amplifier and speaker systems without the need to connect additional cables.
Full-colour touchscreen display for intuitive, button-less operation
The CA98 and CA78 digital pianos are the first instruments of their kind to feature a full-colour 5″ touchscreen display.  Discreetly embedded within the left cheekblock, this high resolution touchscreen allows sounds and settings to be selected from an attractive user interface simply by tapping or swiping the display with a finger.  The screen can also be set to turn off automatically while playing, thus preserving the instruments' acoustic piano-like appearance, and minimising any visual distractions to the performer.


Modern cabinet designs with 6-position adjustable music rest
The CA98 and CA78 are housed within premium quality wooden cabinets that incorporate a flat fascia and raised upper board, giving these instruments a classic, upright piano-like character.  The Concert Artists' broad music rest is designed to accommodate the most ambitious musical works, with smoothly rounded edges and simulated leather lining the base.  As with a grand piano, the viewing angle of the instruments' music rest can be adjusted to suit the performer's playing position, or even set to a special 'composer desk' angle for greater convenience when notating scores or sketching musical ideas.  The CA98 and CA78 are available in three attractive cabinet finishes: Premium Rosewood, Premium Satin Black, and Premium Satin White, allowing musicians to coordinate their piano with a range of traditional or modern interiors.
Stunning multi-channel grand piano sounds, an ultra-realistic wooden-key keyboard action, premium audio, amplification, and speaker technologies, convenient Bluetooth connectivity, and a modern touchscreen interface.
The new Kawai CA Series: The Concert Grand experience in the comfort of your home.
---
For more information about the Concert Artist CA98 and CA78 digital pianos, please refer to the product pages below:
http://www.kawai-global.com/product/ca98
http://www.kawai-global.com/product/ca78